Skip to product information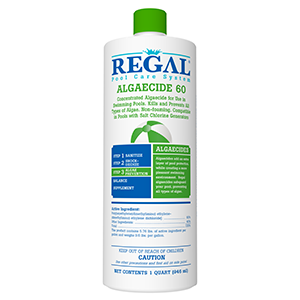 Open media 0 in gallery view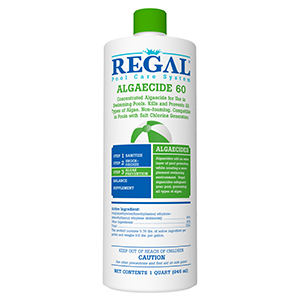 Regal Algaecide 60
Algaecides add an extra layer of pool protection, while creating a more pleasant swimming environment. Regal Algaecides safeguard your pool, preventing and killing all types of algae. 60% Poly [oxyethylene
Description
Additional info
Reviews
Description
Additional info
Reviews
Description
Additional info
Reviews
Algaecides add an extra layer of pool protection, while creating a more pleasant swimming environment. Regal Algaecides safeguard your pool, preventing and killing all types of algae.

60% Poly [oxyethylene (dimethylimino) ethylene-(dimethylimino) ethylene dichloride]

Non-foaming, non-metallic 60% strength polyquat algaecide. Effective in preventing the growth of green, black, and mustard algae. Ideal for all-around use in pools with attached spas and water features. Algaecide 60 should be used on a regular basis.

Concentrated algaecide for use in swimming pools
Kills and prevents all types of algae

Available in 1 quart size.